Amazing Muscle Hydrolyzed Whey Protein Isolate with Natural Flavor & Sweetner - 3Lb (Vanilla Flavor)



PROTEIN- VITAL NUTRIENT FOR HEALTH *
Protein is a vital nutrient in any healthy diet, but for athletes and fitness enthusiasts, it's especially important. Without adequate protein, our bodies can't put together the structures that make up every cell, tissue, and organ. It provides the amino acids that our muscles need to continually rebuild themselves. Without fuel to rebuild, you will be taking your training in the wrong direction and risking an injury to your muscles.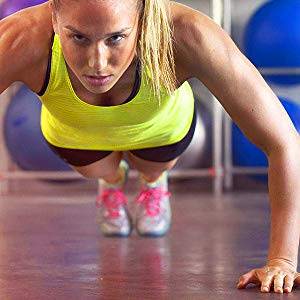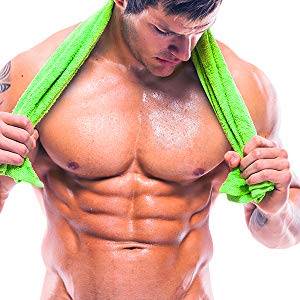 PROMOTES LEAN MUSCLE MASS *
Protein is the ultimate muscle food. * Without enough protein, your body can't produce energy or develop lean muscle mass in response to exercise. * Plus, a lack of protein may inhibit fat burning, making it harder to maintain healthy weight. * Protein is also key for post-workout recovery. Muscles wouldn't heal up as quickly without adequate protein which may lead to fatigue.
BEST TIME TO TAKE PROTEIN *
After a workout is one of the best time to take a protein shake since your body starts to heal the muscle right after a workout. Upon consumption it takes about 30 minutes for the protein to reach your muscles to begin healing the "micro tears" in the muscle. It may also be beneficial to take a protein drink before you go to bed therefore providing your muscles with protein, since your body will be slowly depleted of protein as you sleep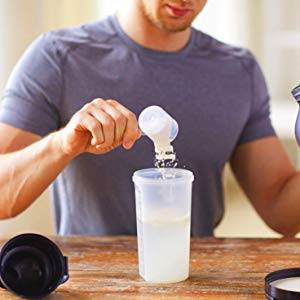 L-Alanince 1,142 mg, L-Aspartic Acid 2,639 mg, L-Glutamic Acid 4,145 mg, Leucine 2,532 mg
Hydrolyzed Whey Protein Isolate, Natural & Artificial Flavor, lecithin, & Stevia Leaf Extract.
Stir up, Shake up or Blend up one serving of Amazing Muscle Protein banana powder with 6-7 oz of water, milk or your favorite beverage. Adjust the taste of your protein shake by varying the amount of liquid that you use to prepare your shake. Use 4-6 oz of water, milk or your favorite beverage with a one scoop-full if you like your protein shake sweet and bold. If you don't like it sweet use 8-9 oz of water, milk or your favorite beverage with one scoop-full. Take your protein shake 30 minutes after workout or as directed by the practitioner.
For adults only. If you are pregnant or nursing, taking any medications or have any medical condition, consult your doctor before use. Persons with high blood pressure should consult a physician befor using this product. Discontinue use and consult your doctor if any adverse reactions occur
Serving Size : 1 Scoop (31g)
  * % Daily values are basesd on a 2,000 Calorie Diet.
  * % Daily values not established
| | |
| --- | --- |
| | After you place your order, you will receive an order confirmation e-mails regarding your order. |
| | Once we ship your order you will receive an email confirming that your order has been shipped. Email also includes Shipping information and Tracking number. Please allow up to 48 hours for tracking information to become available. |
| | Please allow 7-10 business days for your order to arrive. (If you have chosen standard shipping). |
| | Customer satisfaction is very important to us; which is why Amazing Nutrition offers 30-Day Money Back Guarantee! If you are unsatisfied with any products that you purchase, simply return it back for a full return. You may call us at 1(800)-301-5053 or email us at help@amazingnutrition.com for further assistance. |
HERE ARE 5 MORE GREAT REASONS TO BUY FROM US:
| | |
| --- | --- |
|   | FREE STANDARD SHIPPING – NO MINIMUM We offer free standard shipping across the Continental US. You don't have to worry about minimum order quantity to benefit from this offer |
| | |
| --- | --- |
| | YOU GET FULL 30 DAYS TO RETURN YOUR PRODUCT TO US. If you are unsatisfied with your purchase, or you've changed your mind for any reason whatsoever simply send the product/s back to us and we'll cheerfully issue you a refund. |
   

RETURNS ARE EASY, simply ship the product back to us and we shall issue you a full refund as soon as we receive the product.
If you want us to send you a shipping label to return the product back to us, simply contact us at 1(800)-301-5053 or email us at help@amazingnutrition.com. Our customer service representative will be happy to assist you with your return. We shall issue you a full refund minus the shipping cost.
Please accompany the return item with the following:
• Order Number
• Packing Slip
• Reason for return
| | |
| --- | --- |
|    | ORDERING FROM WWW.AMAZINGNUTRITION.COM IS 100% SAFE AND SECURE so you can rest easy. Your personal details are never shared or sold to anyone whatsoever. |
| | |
| --- | --- |
|     | WE WANT YOU TO LOVE EVERYTHING YOU BUY FROM US. If you're unhappy for any reason whatsoever, just let us know and we'll bend over backwards to make things right again. |